Cape Verde Islands are worldwide recognized as the Blue Marlin Capital ! Impressive numbers and also good size fish expect you and our crew will do everything to make this trip unforgotten for you. Even if Blue Marlin is the main goal for many anglers there are plenty of other game fish such as Tuna, Wahoo, Sailfish and Jacks. Blue Marlin Fishing is a teamwork and we want our anglers become part of this team, improving their skills and feel the magic of catching Billfish. Our 2 boats SMOKER and SAMBO are perfect for the conditions we find on Cape Verde. Our crew is well experienced and has fished Cape Verde over 10 years now. We fish hard and will be the first on the water when the fish are biting.
Islands
We are based on Sao Vicente a nothern island with around 70000 people. This island offers a nice marina, good hotels, appartments and restaurants. The Cape Verde archipelago is located around 370 miles of the coast of west Africa and is composed of ten islands. The climate is mild between 25 and 29 °C. The islands are all volcanic in origin and the oficial language is portugese. Even if you have a mild climate we recommend to bring a sweatshirt and light jacket for the days on sea and during the night on land.
Fishing in Cape Verde
Our fishing day is at least 10 hours, when the bite is good we stay longer out of course. We leave the harbor between 6 and 8 regarding the bite time and the preference of our anglers. Food and drinks are included. Our main goal is Blue Marlin. We practise a lot of stand up and pitch bait fishing which is always a great challenge for anglers and crew. Besides impressive numbers of Blue Marlin you can catch Whaoo, Tuna, Sailfish, Jacks and Sharks on Cape Verde.
Boats on Cape Verde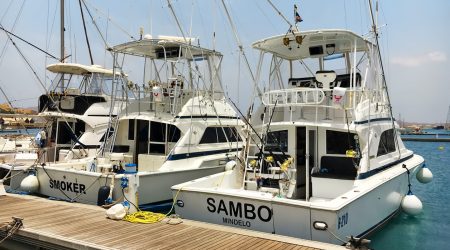 SAMBO is a 36 ft Bertram
2 x 425 Caterpillar engines
80 / 50 lb Shimano Tiagra Reels
Rupp Rigger
Pompanette Fighting Chair
Custom Chair and Stand Up Rods from Texas (USA)
Chair and Stand up Harnesses
Bluewater, Makaira and Black Bart Lures
Moldcraft Super Chuggers combined with Balyhoos
Jigging Rods with Stellas 20000
30 lb TLD with Westin Rods
Dredges
SMOKER is a 37 ft Bertram
Twin 450 HP Cummins
Rupp Rigger
Pompanette Fighting Chair
Shimano Tiagras 130 / 80 / 50 lb Reels
Custom Rods from Pat Brian USA Chair and Stand Up
Bluewater, Makaira and Black Bart Lures
Jigging Rods with Stellas 20000
30 lb TLD with Westin Rods
Dredges
Flights - Hotels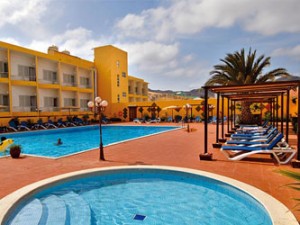 You can get daily to the Cape Verdes via Lisbon Portugal. There are also direct flights from Germany / UK / Holland and France. From the US you can take the direct flight from Boston or a conection via Lisbon.
We recommend the following hotels:
Don Paco Hotel

65 € single Tel. +238 2319381 | Web: donpacohotel.com

Prassa 3 Hotel

75 € single Tel. +238 2300809 | Web: prassa3hotel.com

Mindelo Hotel

75 € single / 85 € double Tel. +238 2328881 | email: mihotel@cvtelecom.cv

Porto Grande

78 € single / 98 € double Tel. +238 2323190 | email: pgrande@cvtelecom.cv

Residencial Jenny

50 € single / 59 € double Tel. +238 2328969 | email: a.c.t@live.fr

Arla Isabel App.

45 € double Tel. +238 2328688 | email: arlaresidencial@cvtelecom.cv

Aparthotel Avenida

40 € double Tel. +238 2323435
The prices are estimated and can be different regarding exchange rates etc.